For some cladding systems (standing seam, shingles, tiles) you need to insert a supporting layer to guarantee the right performances of resistance. To obtain the best results we recommend to use a supporting layer realized with high quality materials. For example, in case of wood support, it's better to use fir wood planks with minimal thickness 23 mm and maximal width 160 mm, installed without roughness and with a distance of 5 mm one from the other.
It can be useful to put a separator layer between the support and the IOROI aluminium to optimize the final result. This layer contributes to the dilatation of the cladding elements, to improve the resistance of the cladding et to protect the wood plank.
It is important to consider the fixing elements in order to guarantee the mechanical resistance without compromise the dilatation of the metal. For example, indirect fixing elements like sliding clips.
Compatibility between different metals is crucial to avoid galvanic corrosion and it should be taken into consideration since the design process. If necessary, use adequate separator materials and stainless steel fixing elements to avoid points of corrosion. Pay attention also to possible situations of indirect corrosion caused by the contact with rainwater that contains some non-compatible substances.
Snow stops are warmly recommended on metallic roofs and should be considered since the design process. The IOROI products range includes specific snow stops for each roofing product, studied to be installed without obstructing the dilatation of the elements and without piercing the roofing cladding.
Chart of the minimal pitches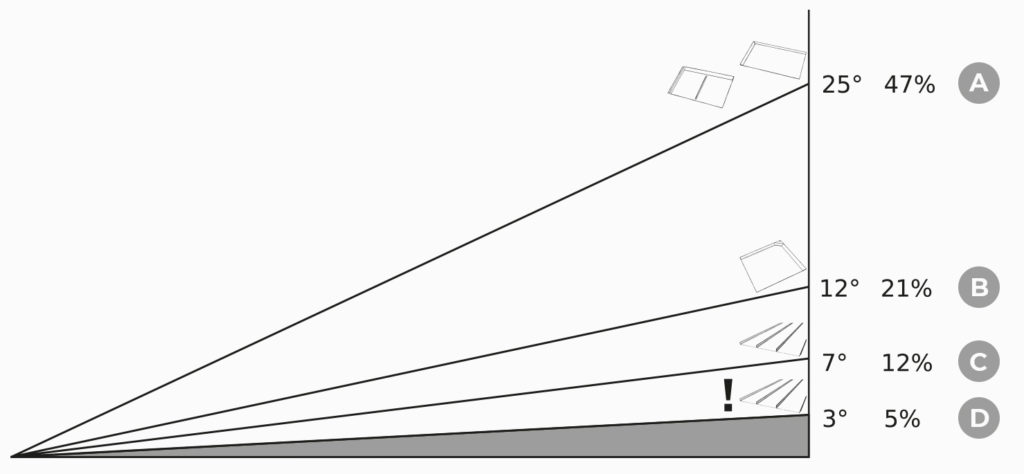 Rectangular shingles / Tiles
Tegola

Diamond shingles

Standing seam

Standing seam with waterproof membrane
For the installation of products with lower pitches than the ones indicated below, we suggest to use a waterproof membrane.